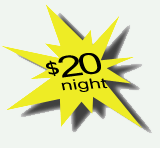 Safe, inexpensive overnight accommodations in a friendly, informal atmosphere,
open to all ages, for only $20.00 per night, including tax.
Manager's hours: 7:00 to 9:00 am and 6:00 to 10:00 pm
If notified in advance, we will stay open for late Alaska ferry arrivals.
Telephone 907.225.3319 (available May 1st to September 1st)
Featuring
Facilites for 19 hostellers
Separate male and female dorms
Bedding is available for rent
Supervision by houseparents
Showers and kitchen
Center for conversation, reading and games
Information on the Ketchikan area
Information on hostels world-wide
Getting to Ketchikan
Ketchikan is served by Alaska Airlines, with several flights a day from Seattle and points north in Alaska. The airport is on Gravina Island, just across from Ketchikan, and requires a short ferry trip across Tongass Narrows. The hostel is about 2 1/2 miles toward downtown.
Ketchikan is also served by the Alaska Marine Highway System, with frequent arrivals from both Seattle and Prince Rupert, British Columbia, Canada, as well as from the cities of Alaska's panhandle. The hostel is about two miles toward downtown from the ferry terminal.
About the hostel
The Ketchikan Hostel is located in the heart of historic downtown Ketchikan on the corner of Main and Grant streets (see the map below). Nearby are a variety of gift shops and restaurants and a grocery store within a half mile. Cruise ship docks are nearby and a borough bus stop is just a block away.
We are not able to accommodate any pets, and please, no smoking, alcohol or illegal drugs. Children under 18 years of age must be accompanied by an adult.
Here is how to find us...
Click on the map for one courtesy of Google Maps.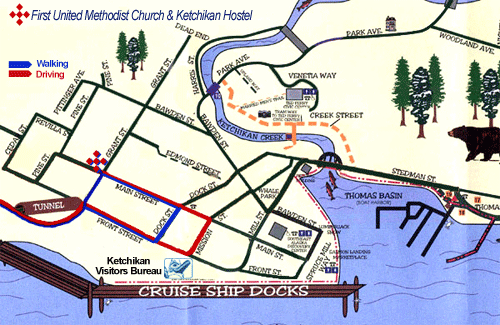 Links to other web sites of interest